ONLY £450 for the full course.   Why not come for a FREE CONSULTATION? CALL ME (Sally) NOW on 07793743493.
What is Gastric-Band-Hypnosis?
Gastric Band Hypnosis procedures have been highlighted in the press and on TV a lot because of their amazing success at helping over weight clients lose weight.
Gastric Band Hypnosis is a proven long term solution to your weight problem.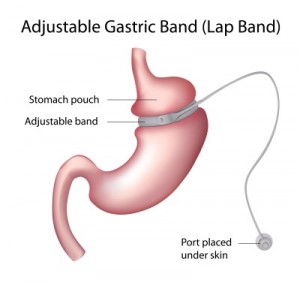 However, not all people who are struggling with their weight are suitable for actual gastric band surgery. Usually, this is reserved for people with a body mass index (BMI) of 25 and over. This surgery, will require you to stay in hospital for a while and there are often side effects such as nausea, diarrhea, constipation, acid reflux etc. plus the gastric band may move causing problems.
Gastric-Band-Hypnosis, however, is a viable alternative without the side effects of surgery. Some studies show that gastric band hypnosis is actually more effective than the surgical procedure.
It is important to stress that not everyone is suitable for gastric-band-hypnosis. That is why I offer an initial free consultation to ascertain your circumstances. If you are not suitable for gastric band hypnosis, ie your BMI is below 25, you can still take advantage of this special offer but without the actual gastric band operation. Instead of this, you can have Stomach Shrinking or Appetite Suppressor hypnosis or both. Everyone has their own issues and these can be addressed whatever route you choose to take.
I provide you with hypnosis recordings/downloads to help you to speed up your metabolism, change your attitude to unhealthy food and for eating small healthy portions of food .. plus exercise, relaxation, ego strengthening, confidence boosting, stomach shrinking, appetite suppressing, curbing cravings, emotional attachment to food, etc.
You will also receive a copy of the actual Gastric Band Hypnosis Operation. A follow-up session to ascertain if your Gastric Band needs to be loosened or tightened is included so that any issues that arise can be dealt with by further hypnotic suggestions.
If you are suitable and you want to go ahead you will need 4 sessions.
The cost for a course of 4 sessions of gastric-band-hypnosis is £450.
PLUS, I am offering you an extra session to deal with anything that comes up later … up to 3 months after the gastric-band-hypnosis operation or your last session of weight loss hypnosis.  So if you find yourself struggling with any aspect of your new lifestyle, eating habits, exercise etc., you can call me to arrange this extra session.
Please Note: The full fee is payable prior to the first session and after the free initial consultation should you decide to go ahead.
You can contact sally@hypnotherapyislington.co.uk
or CALL SALLY ON 07793743493
for further information and to book your sessions